Benefits of Morning Swimming Exercises | Great Miami Valley YMCA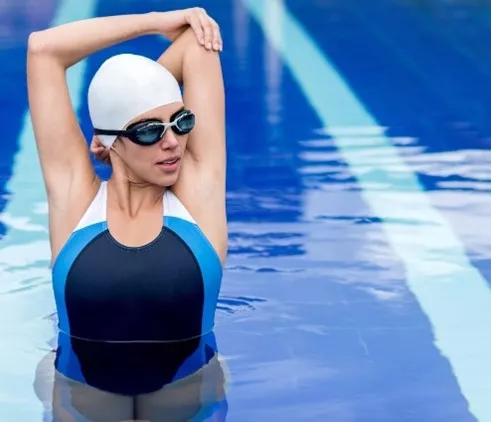 As you look for ways to start each day, consider morning swimming exercises. Doing laps in a pool provides you with the chance to burn calories, get your workout in for the day, and feel refreshed each morning.
A morning swimming session also comes with other benefits for both your mental and physical health. Learn about the benefits and how finding a regular location for daily swims can go a long way in improving your life.
1. Low-Impact Exercise
When you exercise in the morning, you do not want to deal with aches and pains throughout the rest of the day. Swimming is a low-impact exercise that works out the whole body while not putting pressure on limbs and joints.
For example, if you jogged an hour on a treadmill and then had an eight-hour shift on your feet, you could suffer from foot pain by the end of the day. Swimming puts minimal pressure on your body parts so you will endure your full work shift after the workout completes.
Not only will you reduce the impact of the exercise, but swimming could improve the joint pain you feel. Water exposure relaxes muscles and heals aches or pains you may have.
2. Released Endorphins
As you swim, the fast-paced exercises and laps you complete will release endorphins from your brain. Endorphins are known to naturally reduce stress and help us feel happier. In the morning, the release of endorphins can help set up a whole day of happiness.
Intense swimming workouts will often release a considerable amount of endorphins. As you plan your own exercises, consider doing a couple of laps at full speed to release endorphins. The result is not just an instant limited effect, as the endorphin release will help relax muscles reduce stress throughout the whole day.
There is also no limit on the endorphin release. So no matter how many days a week you swim, you will enjoy the same endorphin release day after day and supply your body with the most changes.
3. Device-Free Exercise
Swimming laps often provides a lot of seclusion while you spend time in the water. Not only can you exercise alone, but the time in the water keeps you away from devices. Reducing screen time in the morning will often help keep you focused for the rest of the day.
If you chose an exercise option like a stationary bike or treadmill, you may have options like a TV screen, podcast, or music. Swimming keeps you isolated and almost acts as a form of meditation while you go through the water. Any time you go fully into the water, you will block out all natural sounds and have true isolation.
Much like the endorphins, decreasing the sensory components of your morning exercise routine will help reduce your overall stress for the day and start the day with stress-free activities.
4. Comfortable Water Temperatures
When you swim at a gym or workout center, you do not need to worry about weather or water temperatures. The pool water is regulated to keep you comfortable each time you go into the water. Choosing bathing suits and workout gear is easy because you do not need to change or adjust for the seasons.
Weather elements will not impact the way you swim, and you do not lose out on exercise days as opposed to outdoor exercise options.
For more information on swimming exercise options, contact us at Great Miami Valley YMCA. We have provided excellent swimming facilities to people for years and have a safe and comfortable space for you to swim laps and build up a new exercise routine.