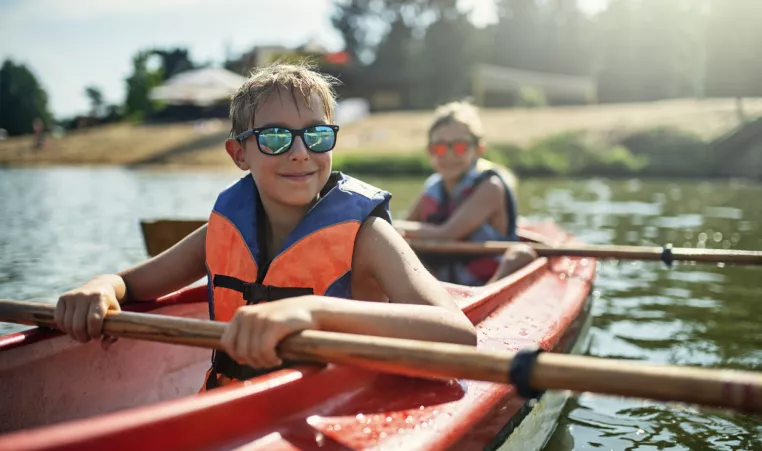 Summer is finally here, and after the year we have all had, we are all ready to get out and enjoy some serious fun doing the things we have always loved. No one deserves to have a great summer this year more than our children. One of the biggest hardships children and teenagers had to endure over the last year was the complete removal from social situations.  Now that things are beginning to reopen and get back to normal, it is more important than ever to help your children get back out there and reenter the social scene. You can easily help your children socialize while also getting physically active by signing them up for one of our great summer activity programs here at the Great Miami Valley YMCA. Here are three summer programs that your children are sure to love.
Friday Night Out & Super Saturdays
One of the best ways to help your children reintegrate into their normal social lives is to give them the opportunity to grow and thrive themselves. Our Friday Night Out and Super Saturday programs offer a wide variety of games, crafts, and activities that your children are sure to love. For our Super Saturdays, pizza and drinks are included with different themes rotating every month. Take a break from parenting while your kids have the time of their lives with one of these inclusive and fun programs. Register here.
Home School Enrichment
If you home school your children, as many Americans did through 2020, you know just how difficult it can be to find opportunities to have your children engage and interact with friends and people their age. Not to mention how difficult it can be for them to make new friends in such a contained environment. Our Home School Enrichment program is the perfect combination of socialization, fitness, and team building. These trainer-led activities are hosted here at the East Butler County Family YMCA and feature a wide variety of sports and activities that are sure to get your kids moving and working together. Click here to register today.
Camp At The YMCA
Few memories are as bright and beautiful as the fun times your children will get to experience at summer camp. For over 90 years, the YMCA Camp at Campbell Gard has been giving children here in the Great Miami Valley some of the most fun and creative outdoor adventures. With activities ranging from archery and fishing to arts and crafts, there are tons of options perfect for any child. We are also proud to be bringing back our beautiful and state-of-the-art ropes course that is as safe as it is thrilling. If you have any questions, feel free to contact us at 513-867-0600 or email wmoore@gmvymca.org. If you are interested in signing your children up for this awesome summer getaway click here.
Help your children get back out there and make the most of their summer with these three great programs from your local Great Miami Valley YMCAs.